Windkist Equestrian Centre
SUMMER HORSEMANSHIP PROGRAM

Dates: 6/26-8/25, 2017. Download the brochure in pdf.

Time: 9:00 AM to 3:00 PM, Mon-Fri

Tuition:
Full week: $500.00

•Open to riders of all experience leves, ages 6-16
•Two hours of horseback riding lessons per day including flat work and jumping according to rider's ability.
•Learn to walk, trot, canter and jump a horse
•Receive individualized instruction
•Learn to bathe, groom, clip and braid a horse
•Discover how to properly tack a horse, and how to clean and maintain tack
•Perform in a Friday afternoon horse show, complete with judge, ringmaster and ribbons
•Show preparation and participation and/or Drill Team performance depending on student's ability.
•Trail riding depending on student's ability.
•Practice safety techniques.
•Horse-related crafts and games
Horseback riding is rewarding and memorable. It develops strength, balance and a strong sense of pride. Join us for a week or more of friendly instruction and competition. All students are encouraged to progress at their own rate.
Questions or reservations, contact Patricia Lambert at (978) 688-7662
Download the printable brochure in pdf format here (requires Adobe Acrobat reader).
Download the release form (in .pdf format). Please print and fill out this form.
| | |
| --- | --- |
| | Learning to jump a horse is a thrill! |
| | |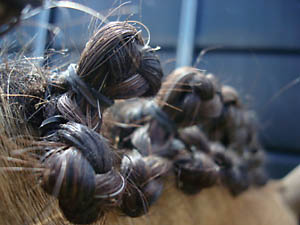 Apparel. etc.
Students are required to have the following to ensure a safe and enjoyable riding experience:
• Riding Helmet - All riders must wear a helmet. If you do not own a helmet, some are available at the barn.
• Riding Pants or leggings - All riders must have full length pants or leggings for riding.
• Tie shoes or boots - A shoe or boot with a heel is best for riding.
• Lunch and beverage
Windkist Equestrian Centre • 125 Windkist Farm Road • North Andover • Massachusetts • 01845

Updated 3/4/17