Horseback Riding lessons for all age groups and skill levels!
Lessons:
$50 - 1/2 hour private
$80 - 1 hour private
$50 - 1 hour group
$40 - 1/2 hour group
Practice: - $40.00 per hour.
Combined Training, Hunt Seat Equitation, Hunters and Jumpers.
We also have regular clinics with guest instructors.
A copy of the barn rules are available as Adobe pdf as well as the liability release .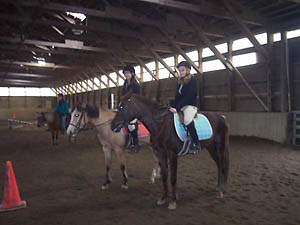 Make-ups:
If you can't make it to your lesson we offer make-up lessons which must be scheduled before you come. Cancellations must be called before your lesson begins.